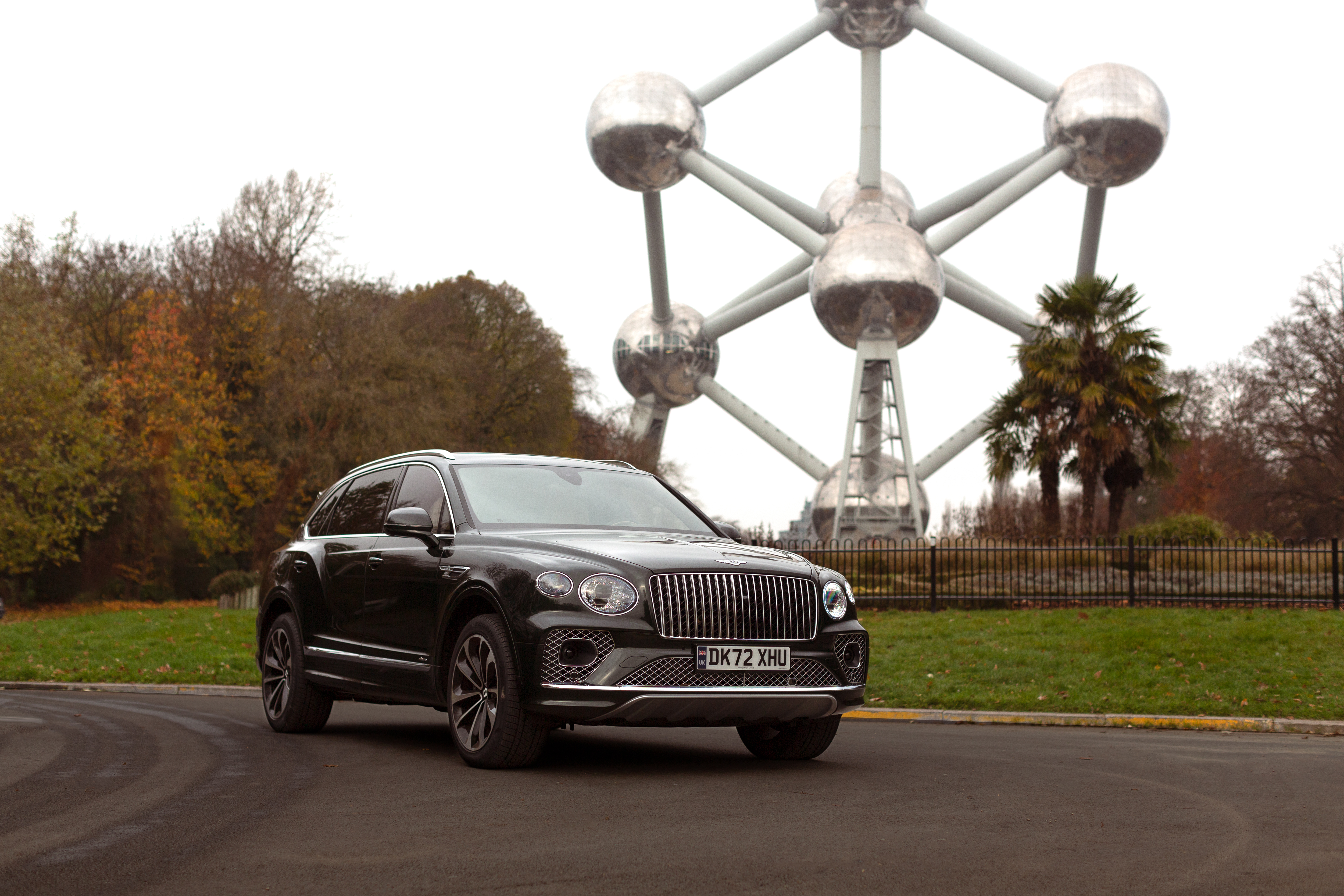 Bentley's Bentayga has greatly impacted the Crewe-based company's fortunes. In fact, it remains its most popular model, making up 42 per cent of its sales during 2022. It's safe to say, therefore, that it's quite an important one for this firm.
But how do you go about developing it, finessing it and keeping it relevant? Well, in the case of the new Extended Wheelbase – or EWB – that means adding luxury, something the regular Bentayga was hardly lacking. We've been trying it on UK roads to see what this tip-top Bentayga is like.
The biggest change here – if the name didn't already give it away – is that the EWB is a bit longer than your standard Bentayga. Focus on those rear doors, as they're where the bulk of this extra length has come from, adding an extra 180mm over the standard car. That brings a roomier interior that allows passengers to stretch out, relax and get an experience similar to that of a first-class aeroplane flight.
But the Bentayga EWB has also been handed four-wheel-steering – which makes low-speed turns easier – while a roll-reducing dynamic ride system is now included as standard.
The beating heart of the Bentayga EWB is a 4.0-litre twin-turbocharged V8 engine – a unit we've seen used with success across the wider Volkswagen Group. In this instance, we've got 542bhp and 770Nm of torque, which is enough power to send this 2.5-tonne-plus car from 0-60mph in just 4.5 seconds and onwards to a top speed of 180mph. They're both figures which seems scarcely believable in a car of this size.
As you might expect, efficiency isn't the high point for this car – but it might not be as bad as you'd think. Bentley claims up to 21.7mpg combined, while CO2 emissions are a smidge under the 300g/km mark at 294.
Naturally, a car of this size is a little intimidating to get up to speed with initially. There's a lot of metal around you and so navigating smaller parking spaces – or a dreaded multi-storey car park – could throw up some challenges to begin with. However, thanks to its relatively square proportions, the EWB is quite an easy car to place, while nicely weighted steering makes the whole car feel accurate, too.
That V8 engine provides a deep well of power, too, and the Bentayga never feels out of its depth in terms of performance as a result. It's also masterfully quiet inside – both driver and occupants could be whispering to one another and you'd hear it.
The Bentayga EWB isn't that noticeably different to the standard car, apart from that slight size increase. But that additional length has been subtly added, so unless you peer a little closer to the rear doors, it's not all that apparent. Elsewhere, we've got the standard Bentayga styling traits; rounded headlights with integrated LEDs and slim, oval-shaped lights at the rear.
It's a polished design, that's for sure. Our car, in a dark blue metallic shade, looked particularly premium while contrast chrome elements only elevated the Bentley-ness.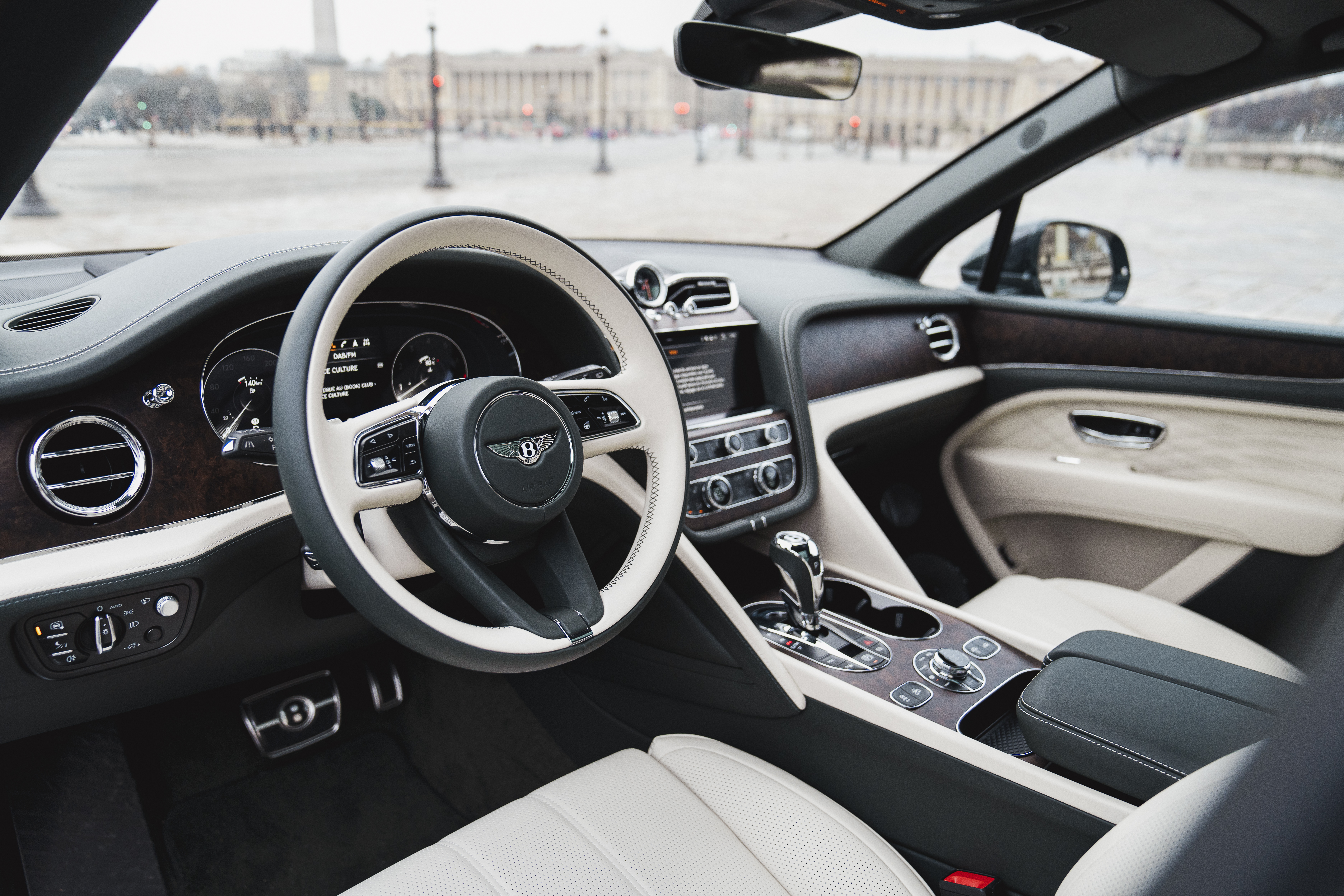 Driving is all well and good but a car like the Bentayga EWB is really focused on the rear-seat experience. 'Our' car came with the Airline Seat option box ticked – an £8,395 extra – which positions two dedicated chairs at the rear. They can be adjusted in a variety of different ways and really do deliver an exceptional amount of space and comfort.
You even get veneered picnic tables ahead of you and an electrically deployable footrest so you can really stretch out and relax. The test car we drove also came with a 'Mulliner Drinks Cooler' which, at £4,800, added crystal champagne flutes and a cooled area to store your favourite bottle.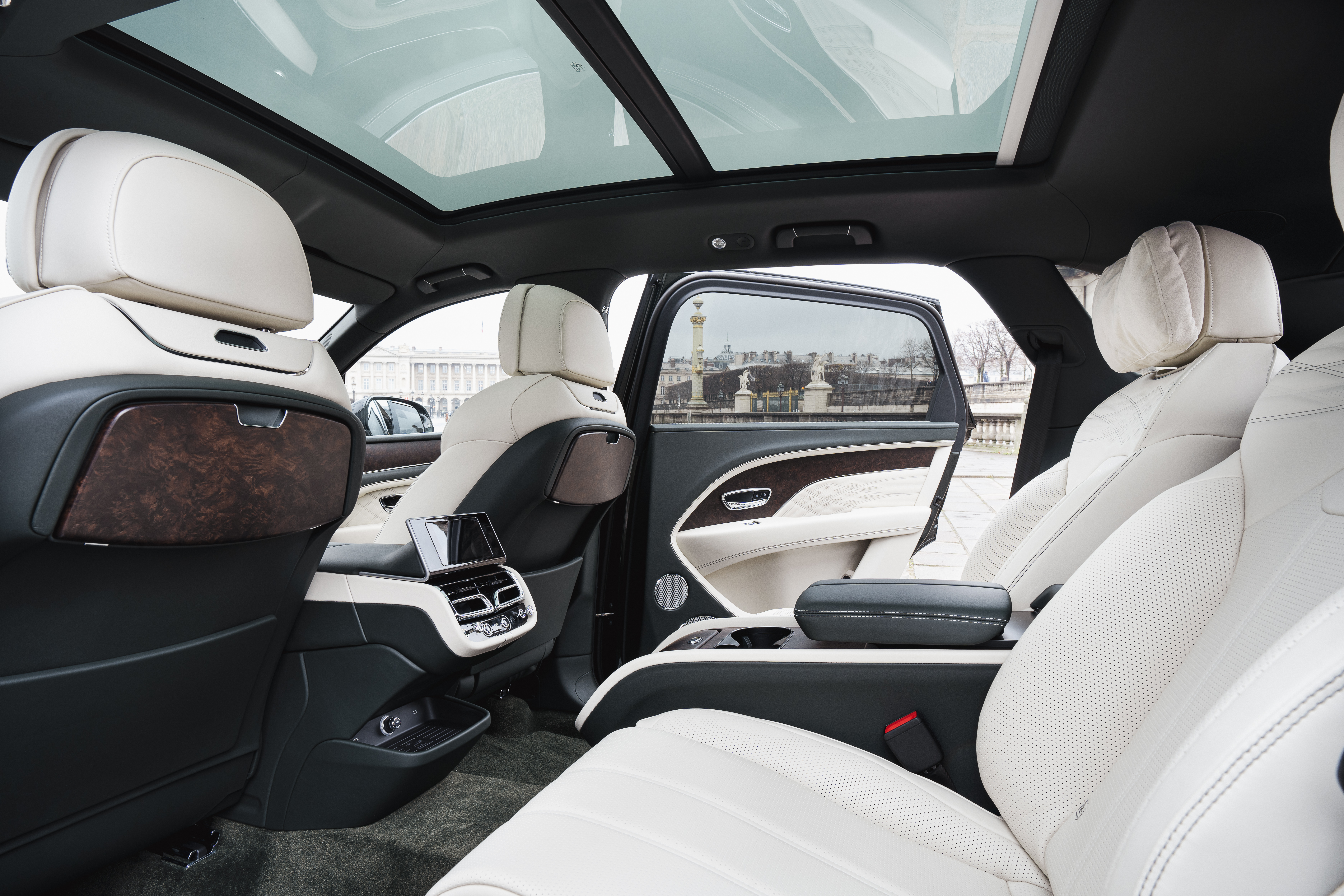 As we've already touched upon, the sky's the limit when it comes to specifications for the Bentayga EWB. On top of the options we've already mentioned, the EWB we tested featured Bentley's Diamond Illumination package – £1,810 – and 22-inch ten-spoke polished wheels, which came in at a hefty £2,000.
One addition we'd really recommend is the Naim for Bentley sound system. At £6,860 it's one of the chunkiest options you can get price-wise, but the sound that it delivers is incredible. From classical music right the way through to Sabbath, it all sounds superb.
As an example of a truly high-end SUV, the Bentley Bentayga EWB is hard to beat. Of course, it stands on a very successful standard platform – and the standard Bentayga remains a fine choice should that extra rear-seat legroom not appeal – but the additional space that it offers does add an extra dimension to this luxurious four-wheel-drive.
At over £200,000, it definitely isn't cheap, but for those who want a first-class experience while still on the ground, it'll likely look like quite good value.
Source By https://www.shropshirestar.com/news/motors/reviews/2023/04/10/uk-drive-the-bentley-bentayga-ewd-adds-further-luxury-to-this-suv/