Days of heavy rain in South Korea have left at least 22 people dead and 14 missing in landslides, floods and other incidents, the government said.
The 22 deaths were reported on Friday and Saturday, all in central and south-eastern regions, the Ministry of the Interior and Safety said.
An earlier ministry report on Saturday morning said five people had died after landslides caused by torrential downpours buried their houses. Two others also died in landslide-related incidents.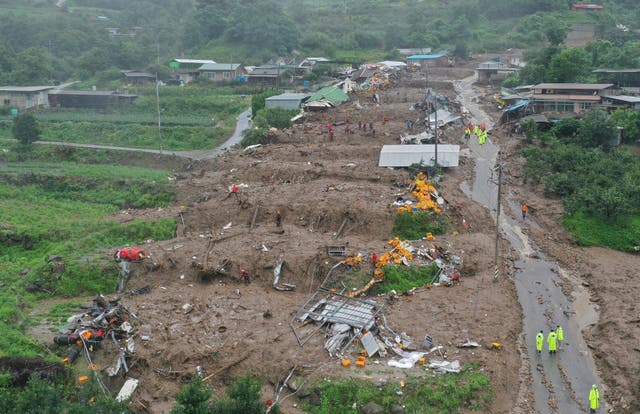 The latest report did not explain the cause of the additional fatalities.
The report said torrential rain has also left 14 people missing since Tuesday, and 13 injured since Thursday.
South Korea has been pounded by heavy rains since July 9.
The ministry report said the rainfall had forced about 4,760 people to flee their homes and left thousands of households without electricity in the past seven days.
It said more than 2,000 people remained in temporary shelters on Saturday afternoon.
Also on Saturday, 20 flights were cancelled and the country's regular train services and some of its bullet trains were suspended, the ministry said.
It added that about 140 roads remained closed.
South Korea's weather agency said some parts of the country will continue to see heavy rain until Sunday.
President Yoon Suk Yeol asked Prime Minister Han Duck-soo to mobilise all available resources to respond to the disaster, according to Mr Yoon's office.
Central regions had the most rainfall, with more than 24in in the city of Gongju and the county of Cheongyang since July 9.
Source By https://www.shropshirestar.com/news/world-news/2023/07/15/torrential-rain-in-south-korea-leaves-at-least-22-dead-in-landslides-and-floods/