You look at the Royal Enfield Scram's relatively compact 411cc engine and think that it might not be the best motorcycle for long days in the saddle. After all, smaller engines tend to feel a little 'buzzy' when sitting at motorway speeds for extended periods of time.
But after several long-distance journeys aboard the Scram, it's pleasing to report that it's actually a very impressive mile-muncher.
A recent flurry of reasonably chunky rides for work has seen the Scram darting all across the country, with the little single-cylinder engine thrumming away underneath merrily. With only a five-speed gearbox I do feel like the Scram is missing a 'cruising' gear, however, but because the revs are relatively high when you're on the motorway it's very eager when you do need a quick burst of throttle.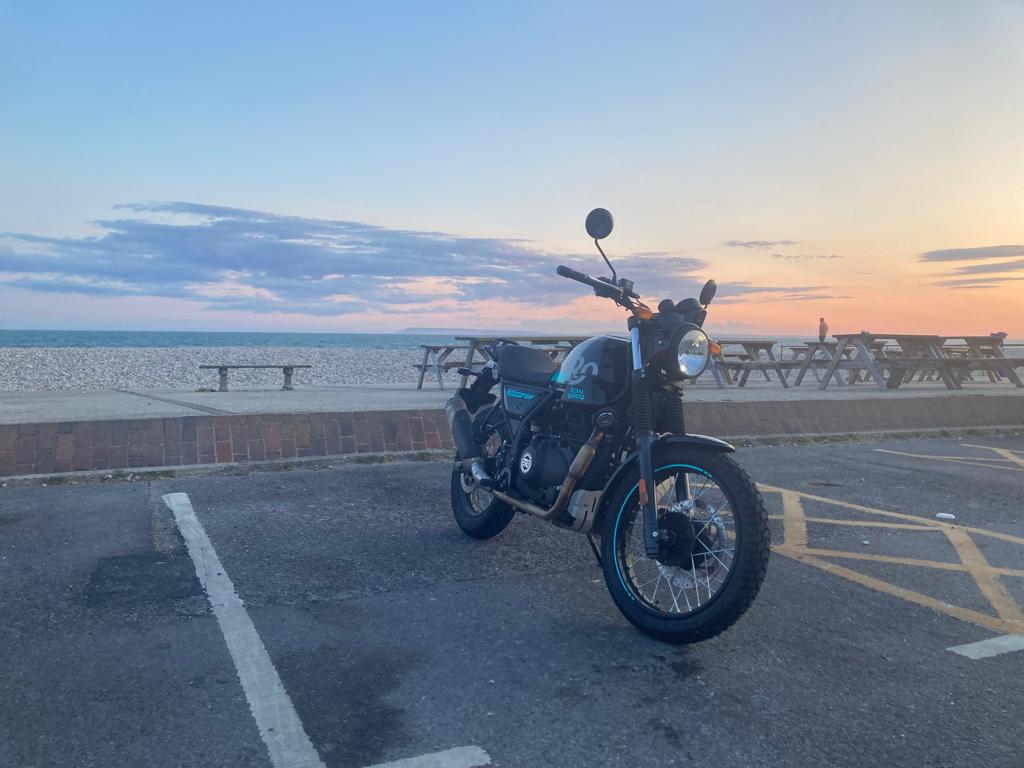 The ride quality is great, too and while the tyres might look quite chunky in appearance, I've not been noticing too much vibration being sent through the bike as a result of the knobbly tread. Even the exhaust isn't too overpowering and lately, I've noticed the odd 'pop' when slowing down, which really adds to the old-school feel of the single-cylinder engine.
Are there any things I'd be changing? As I've mentioned before, I'd be uprating the brakes for some slightly more powerful versions as in their standard form they just feel a little bit woolly. The front lacks some bite and the rear feels as if it takes a very long time to properly kick in. And though the exhaust's quietness is a great aspect when you're on the motorway, I think I'd swap it out for a slightly more raucous one to fit the Enfield's Scrambler image.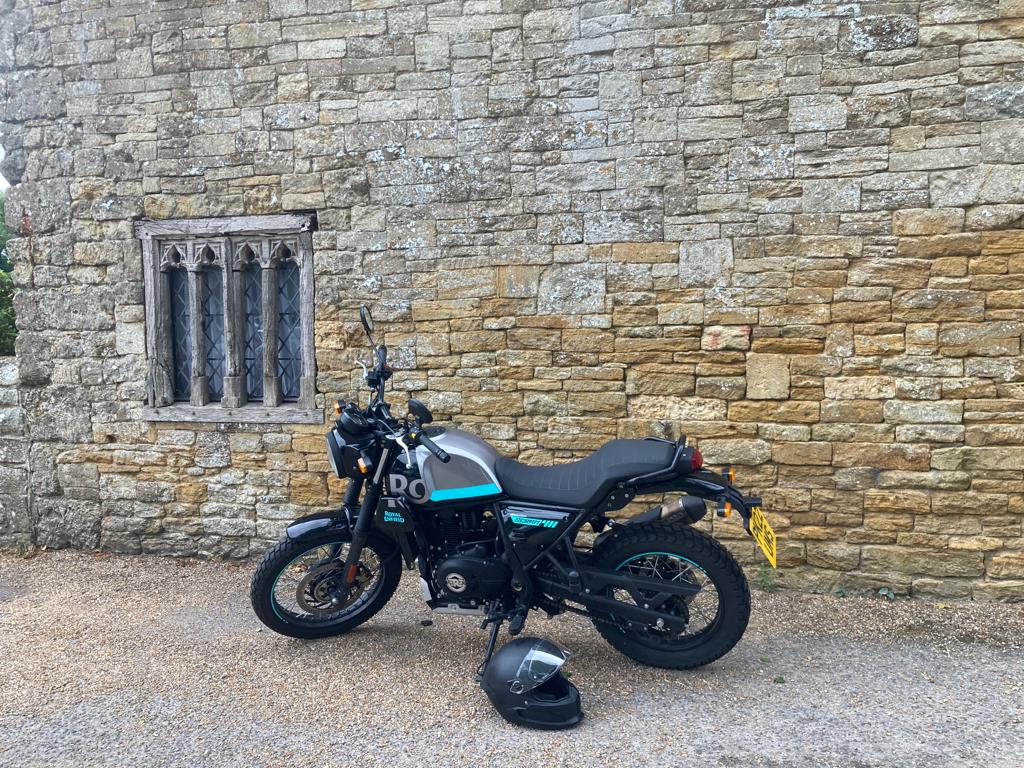 But that aside, it's still a superb thing for getting from A to B. The Enfield Himalayan's reputation is already strong in the motorcycle community, so the fact that the Scram uses the same platform – but throws in some more eye-catching tweaks – is definitely to its advantage. I've also noticed that it seems to use very little fuel, and a recent trip from the south coast to Cheltenham and back again came in at around £25 – so it's a great way of saving money on petrol costs, too.
The Scram was also superbly useful at the recent Goodwood Festival of Speed. I'm lucky enough to live relatively nearby, but the traffic – regardless of where you're situated – is always an absolute nightmare. A bike, in my view, is the best way to get to the Festival and the Scram was the ideal candidate for this year's event.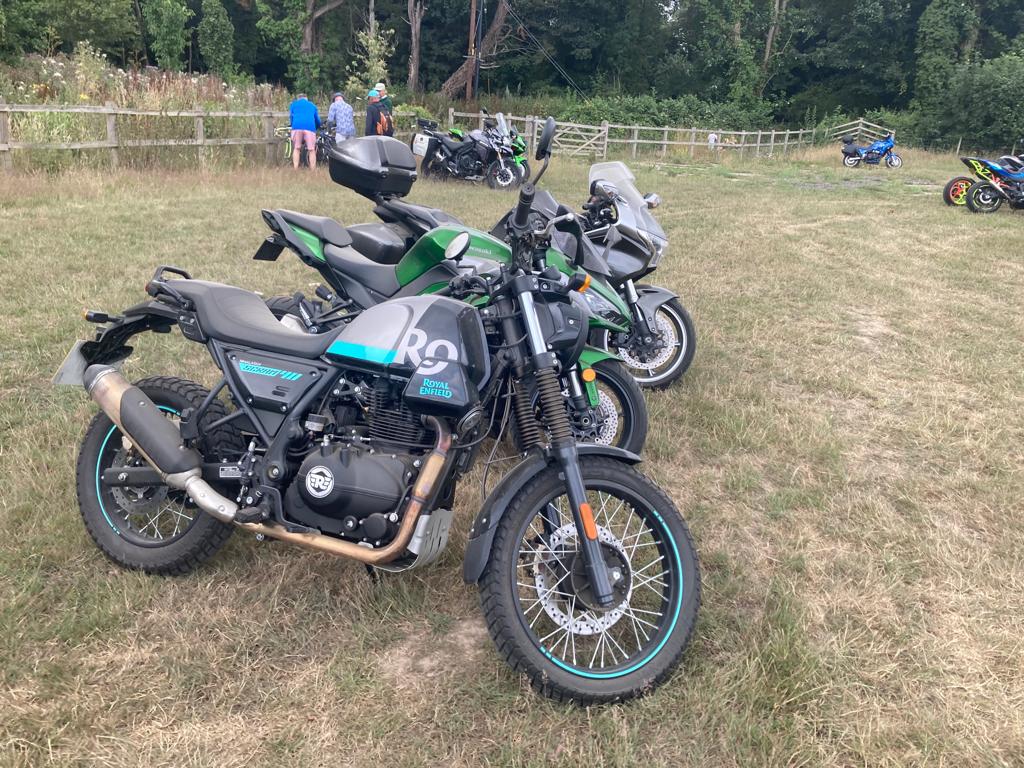 It's not too wide of a bike so it's very easy to filter through traffic, while I found that the relatively wide bars made darting around very simple. The mirrors – though a bit useless at high speeds due to vibration – are just the right size to make quick checks when you're travelling in slower-moving traffic, too. The on-board Tripper navigation, yet again, was a dead simple way of making sure I was taking the best route. The motorcycle parking at Festival of Speed is also great as staff on-site securely store all of your equipment for you and you can give a donation to charity on the spot.
I've also just started to use a Cardo Packtalk system in my helmet. Previously I've been just using some earbuds to provide a bit of music, but this setup makes things a lot more comfortable with some speakers mounted inside the helmet liner and a small Bluetooth-connected unit that mounts to the side of your helmet. I've never used one before, so I'm quite keen to see how it makes riding even more enjoyable over the next few months.
As we move towards August, I always get the sense that darker, gloomier months are already on the horizon. As those don't tend to favour motorcycle riding, I'm going to be taking every opportunity to get behind the bars of the Scram while the weather is still good.
Source By https://www.shropshirestar.com/news/motors/reviews/2023/07/20/long-term-report-the-royal-enfield-scram-411-puts-in-the-miles/