>
Okay, so we'll get something straight right away. The car we're looking at today – the Citroen Oli – is just a concept for now, which means that rather than our usual testing routes that include the UK's winding lanes and bustling motorways, we're staring to the end of one of Farnborough International Exhibition Centre's huge halls, in which the Oli is plonked right in the middle of.
So rather than a traditional drive, we're going to be checking out some of the Oli's mad-hat features and technology.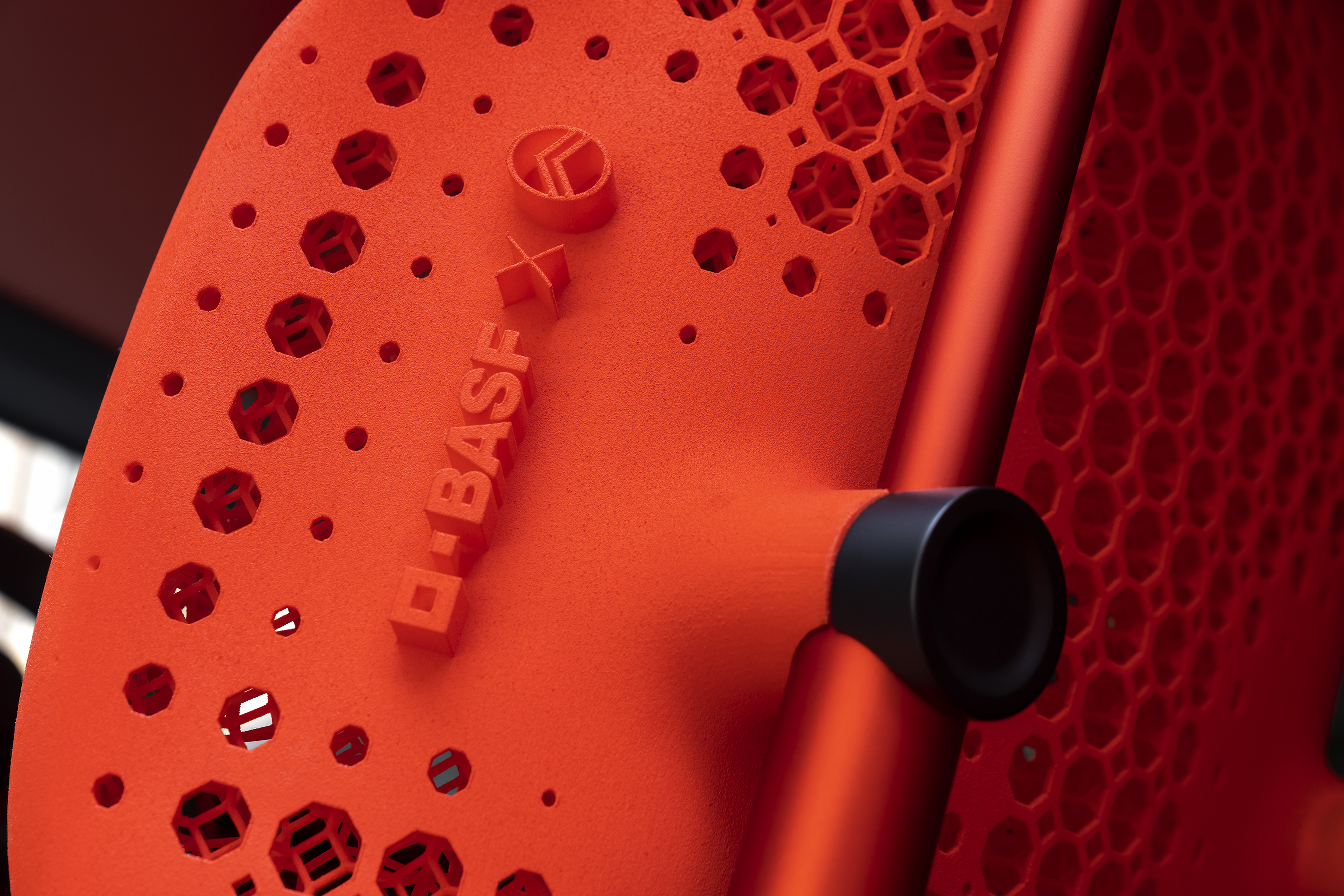 >
Well, pretty much all of it is new. The Oli might be tied together with the Ami in terms of out-there concepts, but it's a significantly larger and more car-like affair. We parked the one against the other, in fact, and the Oli completely dwarfs its city-focused stablemate. The two, however, are solely electric-powered.
The Oli also adopts a very unconventional body layout. It's got a square front end, as you can see from the images, but the rear end adopts more of a pick-up-style design with a drop-down tailgate and a large open 'bed' that could prove ideal for surfboards or even bicycles, at a push.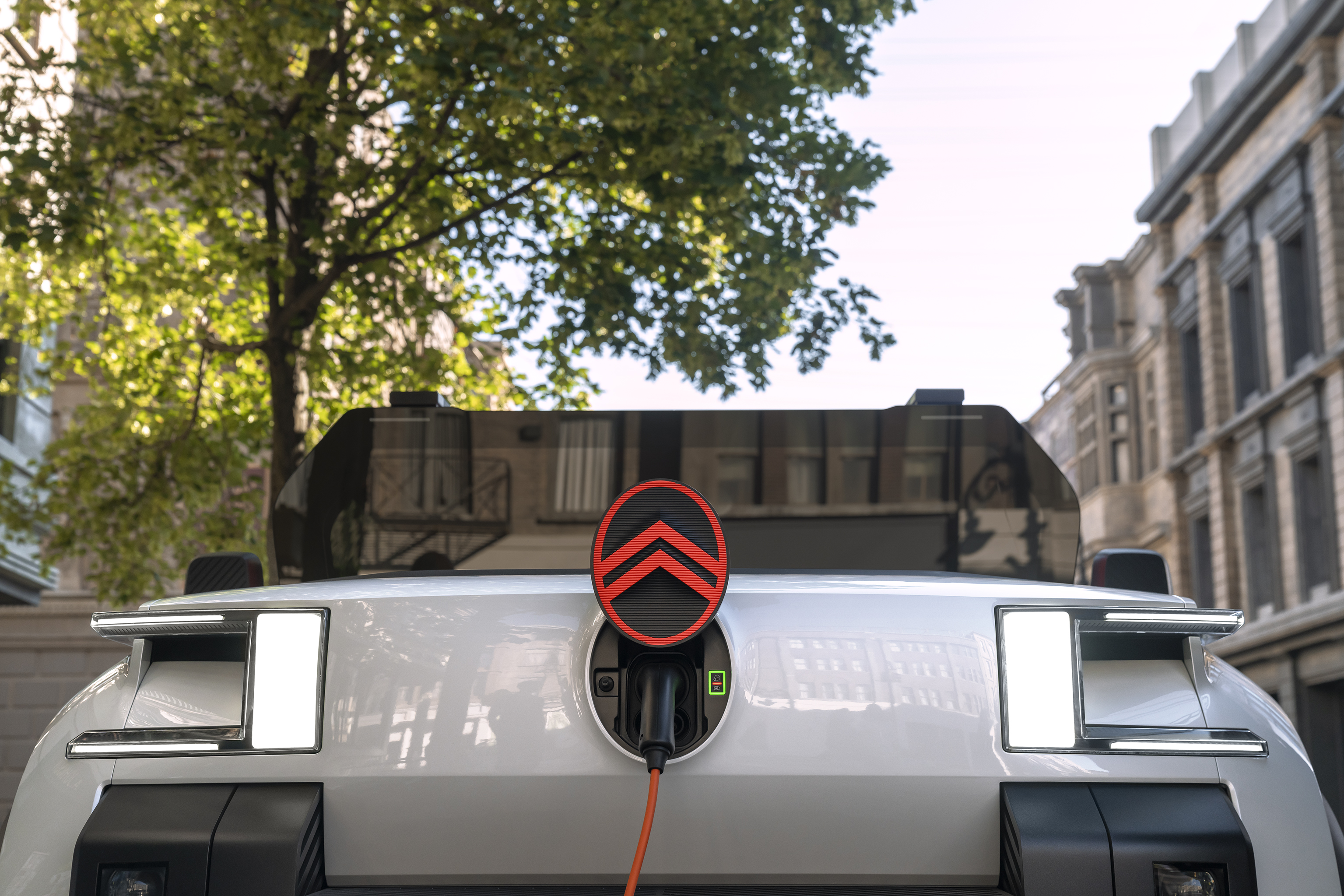 >
As we've mentioned, the Oli uses a fully electric setup. With a 40kWh and a very lightweight design, the Oli is accompanied by a claimed range of up to 248 miles which is significantly more than the 48 miles you'd get from an Ami and more akin to one of Citroen's more traditional EVs like the e-C4.
The charging port? That's located right on the nose, underneath the classic Citroen badge. Plus, the Oli features vehicle-to-load (V2L) technology, which means that it could provide power to domestic devices or be used as an energy storage unit which could then be used to power an entire home with low-cost energy.
As you might expect, the vast halls of Farnborough Exhibition Centre don't exactly bring the most testing of conditions, but it does give us a little idea as to how the Oli might behave on the road. This is a concept, after all, so it's relatively loud and the power steering needs to be activated by a physical switch under the bonnet – something you're unlikely to do each and every morning.
But the Oli feels far more 'together' than you might expect, with light handling and decent acceleration. It's also pleasantly square, too, which means that it's easy to see exactly where your corners are. It's also fitted with a traditional foot brake, too, so you do have to remember to put this in place to prevent the Oli from rolling away.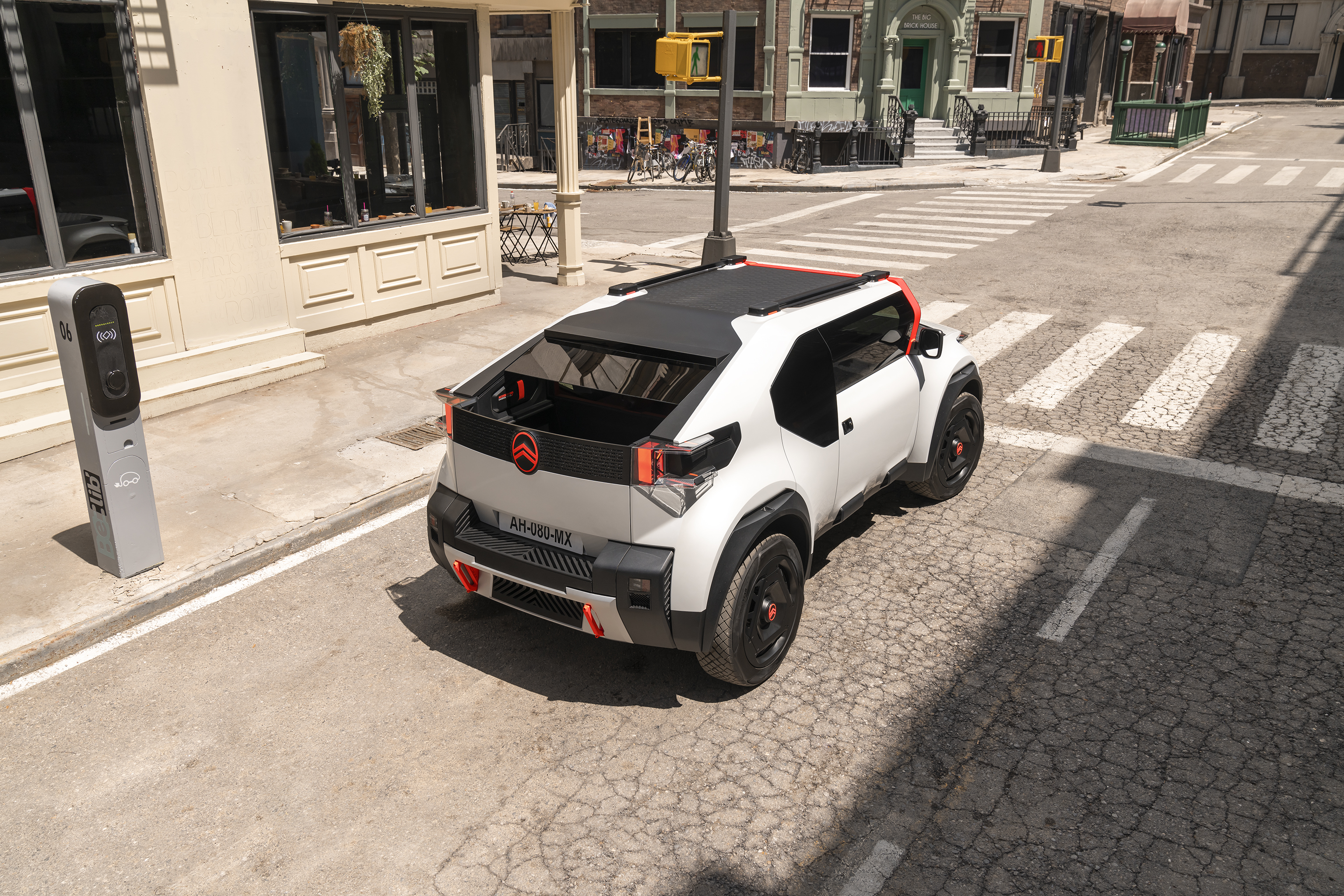 >
The Oli doesn't look like anything else on the road at the moment. As we've mentioned, it has a rather unconventional layout, but we feel that it could prove very handy, particularly if you have a more outdoors-orientated lifestyle. Those black sections on the car are made with corrugated cardboard, too, reinforced with a special coating which makes them super-strong. You can stand on the roof, they're so rigid.
The windscreen is also perfectly upright, too. The reason? Doing so means less glass, and less glass means lower weight. To compensate, the Oli has aerodynamic 'channels' at the front which move the air up and over the car, creating a virtual windscreen that bypasses this completely bluff physical one and ensures wind and rain don't impact it quite as much.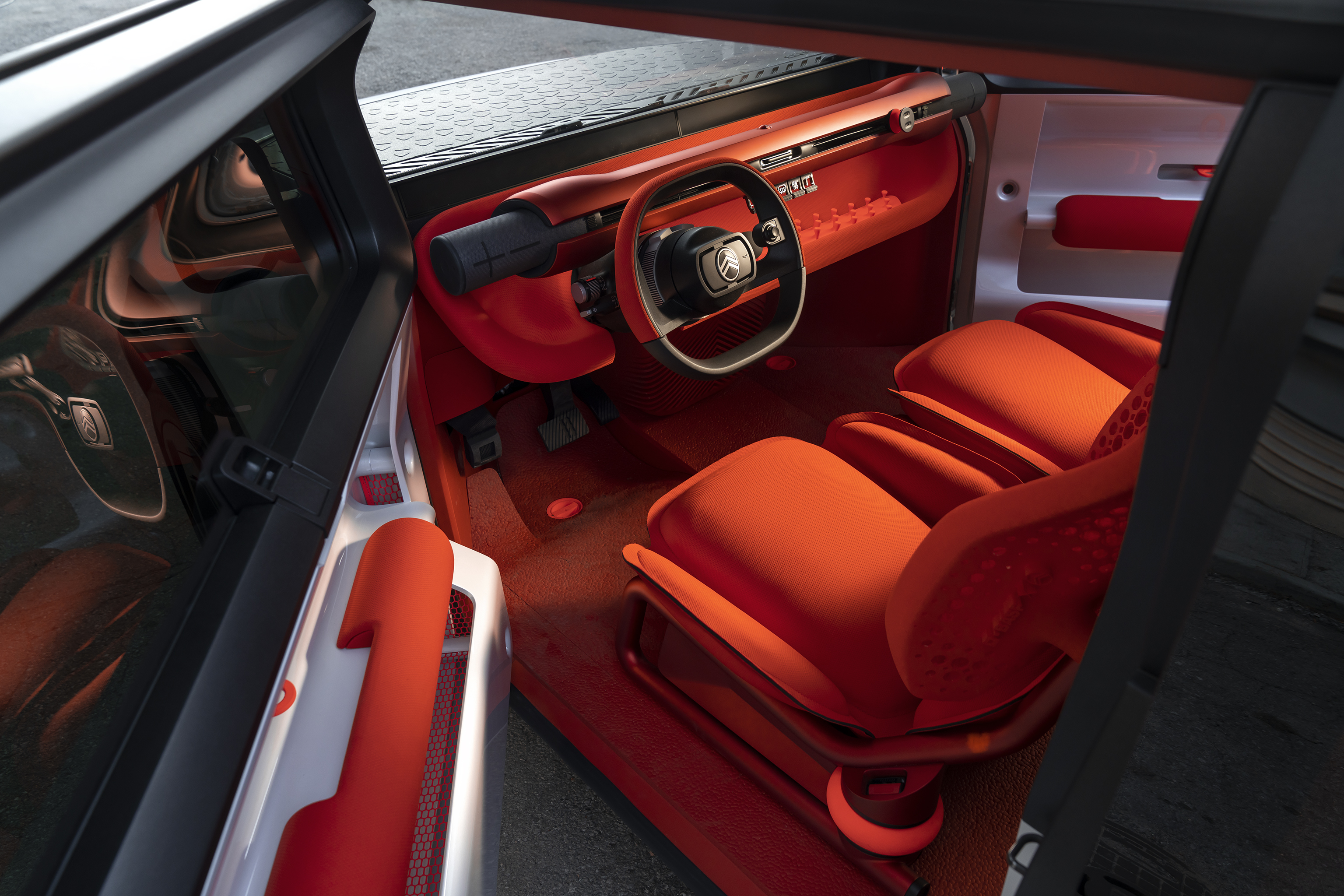 >
Much like the exterior, the Oli's interior isn't what you'd call conventional. To save weight, for instance, the Oli doesn't have an in-built stereo, instead adopting removable Bluetooth speakers so you can enjoy your tunes inside the car and then take them with you. There's a cool 'beam' display, too, which is where your key readouts come from.
The seats have a cool honeycomb pattern and there's a surprising amount of space in the back, too. Rear-seat passengers can take advantage of integrated tablet holders, too, as well as a space to store your wireless headphones.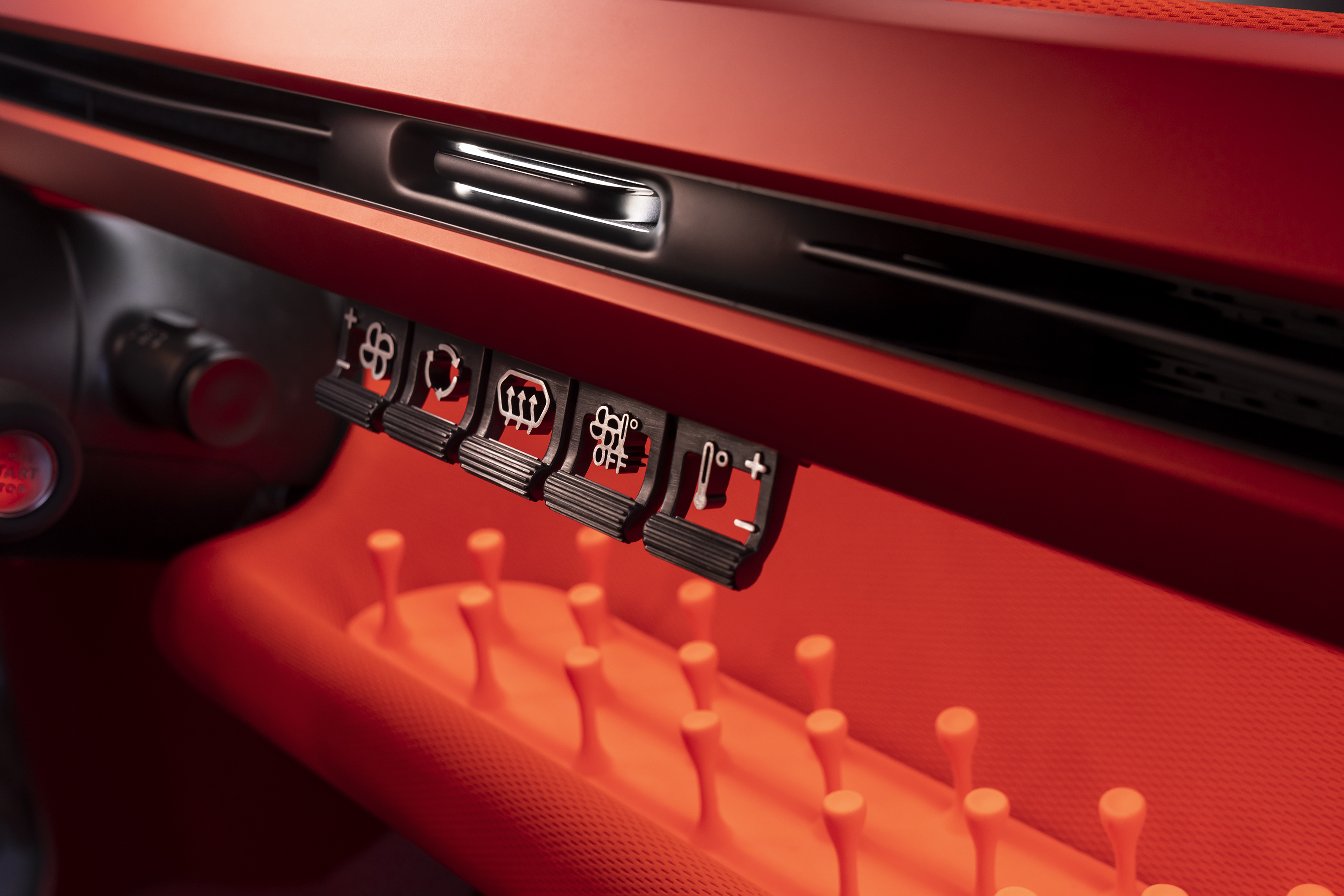 >
There's no real infotainment to find in the Oli, with things instead run off the user's smartphone. Again, this reduces the amount of wiring required which, in turn, lowers weight. The Oli is packed with other cool features, such as the striking headlights and the rear-hinged back doors that help make getting in and out of the back of the car easier.
Plus, the tyres that the Oli rides on have a trick up their sleeve too. Developed with Goodyear, they're designed for 310,000 miles of use and can actually have their treads renewed twice in their lifetime.
The Oli isn't going to appear on the UK's roads any time soon. However, what it does show a little bit of a return to the crazy Citroen cars that the French firm became known for. It's unconventional, that's for sure, but it's got some really clever eco-friendly credentials at its heart, too.
It'd be great to see it go on sale but even if we get a small portion of what this concept has to offer, we're in for a real treat in the future.
Source By https://www.shropshirestar.com/news/motors/reviews/2023/03/29/concept-drive-the-oli-points-towards-citroen-cars-of-the-future/